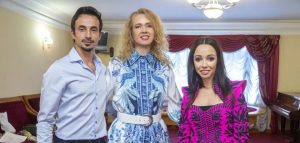 Lyudmila Rusalina, President Petrus Group, philanthropist, congratulated the pupils of the Kiev State Professional Choreographic College on a reporting concert. This was the first concert of the ballet school under the direction of the new star director Ekaterina Kukhar. For the current graduates of the choreographic college, Rusalina has prepared a real surprise – she presented ballet tutus in which young dancers will conquer the best scenes in the world (scroll to the end to watch the video).
"I would like to wish all the graduates and graduates of our Ukrainian Kiev school to be incredibly successful. To be applauded by full houses in all countries of the world, "Rusalina emphasized. She also expressed the hope that the most prestigious stages of the world will soon open for the Ukrainian ballet and that the graduates of the Kiev Ballet College will be invited to ensembles in different countries. "I myself have been doing ballet since childhood, from the age of five. I attended all the performances that were here at the opera house.
Today I get pleasure from what I see: what talented children we have, how they dance, what level of ballet school in Ukraine. You know, I'm proud of it, "added Rusalina. In order for the graduates to glorify the Ukrainian ballet culture, patrons of art took on their support. So, Rusalina, who has been systematically engaged in charity for more than 20 years, by her example urged everyone to join in so that the Ukrainian ballet was revived. Ekaterina Kukhar, for her part, noted that she is working on the skills of the students in order to change the status of the college. "Today it is very difficult for me.
And creepy. Because every time someone goes on stage, I worry about each of them, I worry. I know everything about everyone. What a remark to whom I spoke. I'm watching how he or she corrected it, "she commented on the reporting concert.
According to her, the college should be renewed in two years, start cooperation with the French National Ballet School. The director is also determined to invite celebrity choreographers from Europe who will help raise Ukrainian ballet to a new level. Kukhar assured that the school is working hard to master modern choreography.
Note that the students and pupils of the school constantly participate in various creative competitions – domestic and international. High professional training allows them to appear on the festival stages in Bulgaria, France, Great Britain.